UltraROOF 380
A REPLACEMENT TILED ROOF THAT CAN INCORPORATE FULL RECTANGULAR GLASS PANELS.
UltraRoof380 is a simple to fit and cost-effective pre-packaged solid roof kit.  It is the ideal replacement for the aged and worn conservatory roof.
UltraRoof380 has an excellent thermal performance whereby the problems of the conservatory being overheated in summer or too cold in winter are resolved.  It features a beautiful vaulted plastered ceiling on the inside including a stepped detail at the eaves which is perfect for placing spotlights and cables.
A configurable technology allows the placement of multiple glass panels to allow extra light and control its amount.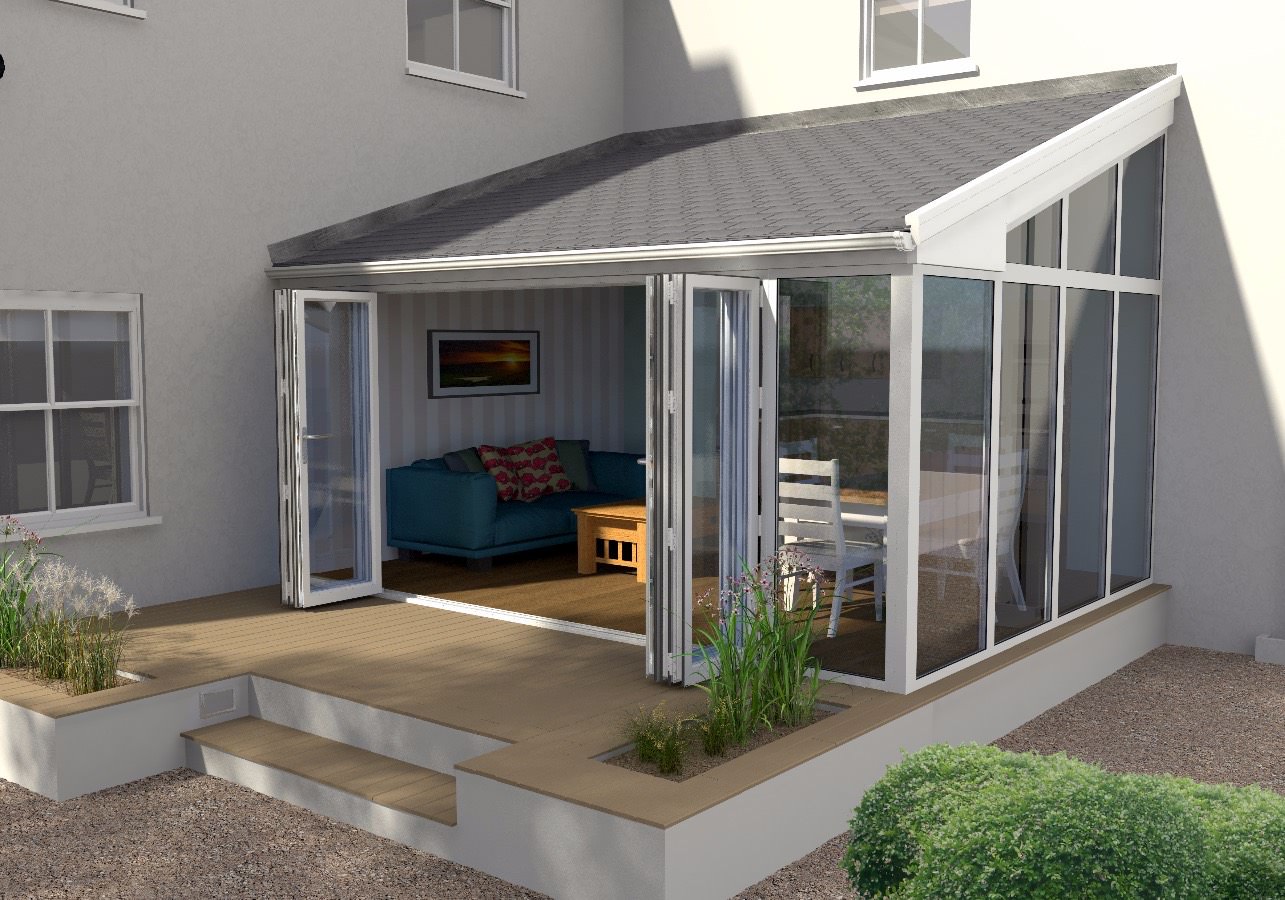 The features of the UltraRoof380 are:
Solid roof including slate effect tiles sheet
Classic roof in RAL7016 'matt effect'
All insulation and battens
Fascia board
Black Marley Classic gutter.
Key performance criteria
The product can be designed with window frames to all elevations – no support posts
If bi-folding doors are to be used they MUST be bottom supported NOT top hung
The standard soffit projects approx 40mm beyond the external face of the window frame – box eaves beam is approx 380mm front to back depth
Pitch range using UltraTile is 12.5° – 41°
System 'U' values – with the 190mm Unidek Aero panels is 0.16W/m2°C
Rectangular glass panels can be integrated to maintain light into any adjacent room
Everything is pre-fabricated in our highly efficient factory to ensure rapid one day fit on site
On a 4m x 4m Georgian, the system weight is 38kg/M² including plasterboard (12kg/m2 polycarbonate roof and 30kgM² for a glass roof).